Small-group tours are offered for symposium attendees. Group size is limited so early signups are important to ensure that you can participate. Note that extensive walking, standing, and stair-climbing are required. Please complete tour registration form and mail, with check made to "NAWCC", to Bob Frishman, 53 Poor St., Andover MA 01810.
Thursday, October 7, 9:30 a.m. Independence National Historical Park. No charge but please sign up ONLY if you are committing to participate so that you do not waste a spot. Group size is limited to 40 people.
Special tour with Karie Diethorn, Chief Curator, including viewings of two Stretch clocks and the Isaiah Lukens clock in the Second Bank following a ranger-led tour of Independence Hall. Lukens scholar (and descendant) Elizabeth Fox will give a brief presentation on her ancestor.
At 9:30 sharp, meet Curator Karie Diethorn in the garden encircled by a wrought iron fence and containing a large bronze statue of a colonial figure on the southeast corner of 5th and Chestnut (the site is called "The Signer's Garden"). She will distribute the tour tickets and then we will cross the street and queue up for security screening. A brief special visit to the nearby Philadelphia Athenaeum may be added at the end of this tour.
ALERTS! There are NO restrooms near Independence Hall. People should stop at the Visitor Center at 6th and Market (i.e. one block north of Independence Hall) before coming to The Signer's Garden at 9:30. There are NO elevators in either Independence Hall or Second Bank; access to both buildings' second floors is by extensive stair-climbing.
Thursday, October 7, 1 p.m. Rittenhouse Clock and Orrery, Drexel University and U. Penn. $15 per person, limit 30 people. Meet at Drexel's Paul Peck Alumni Center, approximately 3 miles from the symposium venue.
Rittenhouse experts and craftsmen Ron Hoppes and Barry Torrente will lead our 2-hour tour of these outstanding machines made by Philadelphia's premier Colonial horologist and patriot. They will describe in detail these amazing devices and the extensive restoration work that they performed on the clock.
- OR -
Thursday, October 7, 1:30 p.m. Clocks at the Philadelphia Museum of Art. $TBD limit 30 people.
PMA Curator of American Decorative Arts Alexandra Kirtley will join independent clock scholar Gary Sullivan for a special tour of the museum's important clocks presently on view in this world-class institution. This tour is not yet confirmed so no reservations now are possible. Please indicate your advance interest to Bob Frishman.
Sunday, October 10, 8:30 a.m. All-Day Bus Tour to Columbia and Lancaster. $125 all-inclusive for buffet lunch, smorgasbord dinner, museum admissions, presentations, and round-trip coach transportation. Limit 40 people.
Meet at 8:15 a.m., then at 8:30 a.m. depart Old City Marriott Hotel. Arrive 10 a.m. at NAWCC for a special symposium-theme tour of museum led by Ralph Pokluda. Noon buffet lunch at John Wright Restaurant in Wrightsville with a presentation by Dave Haneman, President of Rivertownes, PA USA, on the 1863 Civil War battle and burning of the town's long wooden bridge over the Susquehanna River. 1:30 p.m. special tours of Rock Ford Historic Site and its extensive collection of historically important tall clocks; antique furniture expert, restorer, and conservator Alan Andersen will discuss some of the clock cases on view. 4 p.m. views and guided explanations by watchmaker Roland Murphy of sites of former Hamilton Watch Company factory and Bowman Technical School. 5:30 p.m. buffet dinner at Hershey Farm. Return by 9 p.m. to downtown Philadelphia. Presentation on bus by Elizabeth Fox about her ancestor, Isaiah Lukens, Philadelphia clockmaker.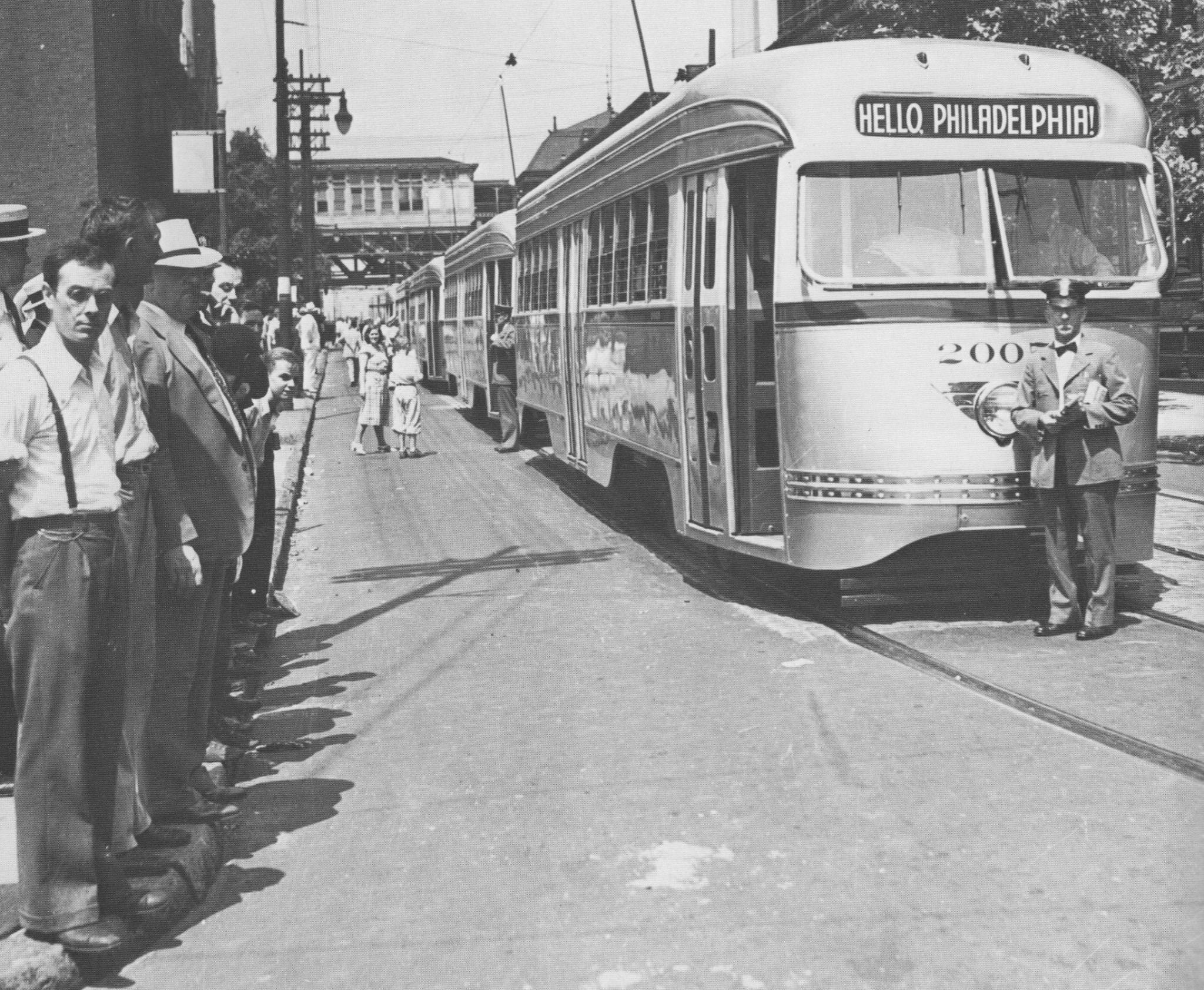 1967 Horological Tours of Philadelphia by James Gibbs
The NAWCC's Silver Jubilee Convention was held in Philadelphia in June 1968. As part of the buildup to that milestone event, James Gibbs prepared a four-part series of articles -- "A Horological Tour of Philadelphia" -- that was published in the NAWCC Bulletin during 1967. Most of what he covered in much detail still can be visited and viewed. Please read these in-depth articles for a preview of your horological time in Philadelphia.
Horological Tour of Philadelphia - Part 1
Horological Tour of Philadelphia - Part 2
Horological Tour of Philadelphia - Part 3
Horological Tour of Philadelphia - Part 4
Back in 2007, the early 19th century Isiah Lukens clock movement (shown below), formerly in Independence Hall's tower, was rescued from its ruinous condition in Germantown and returned in restored condition for display at Independence National Historical Park, although currently it is in storage and cannot be viewed.
Read Bob Frishman's related
article
for more details.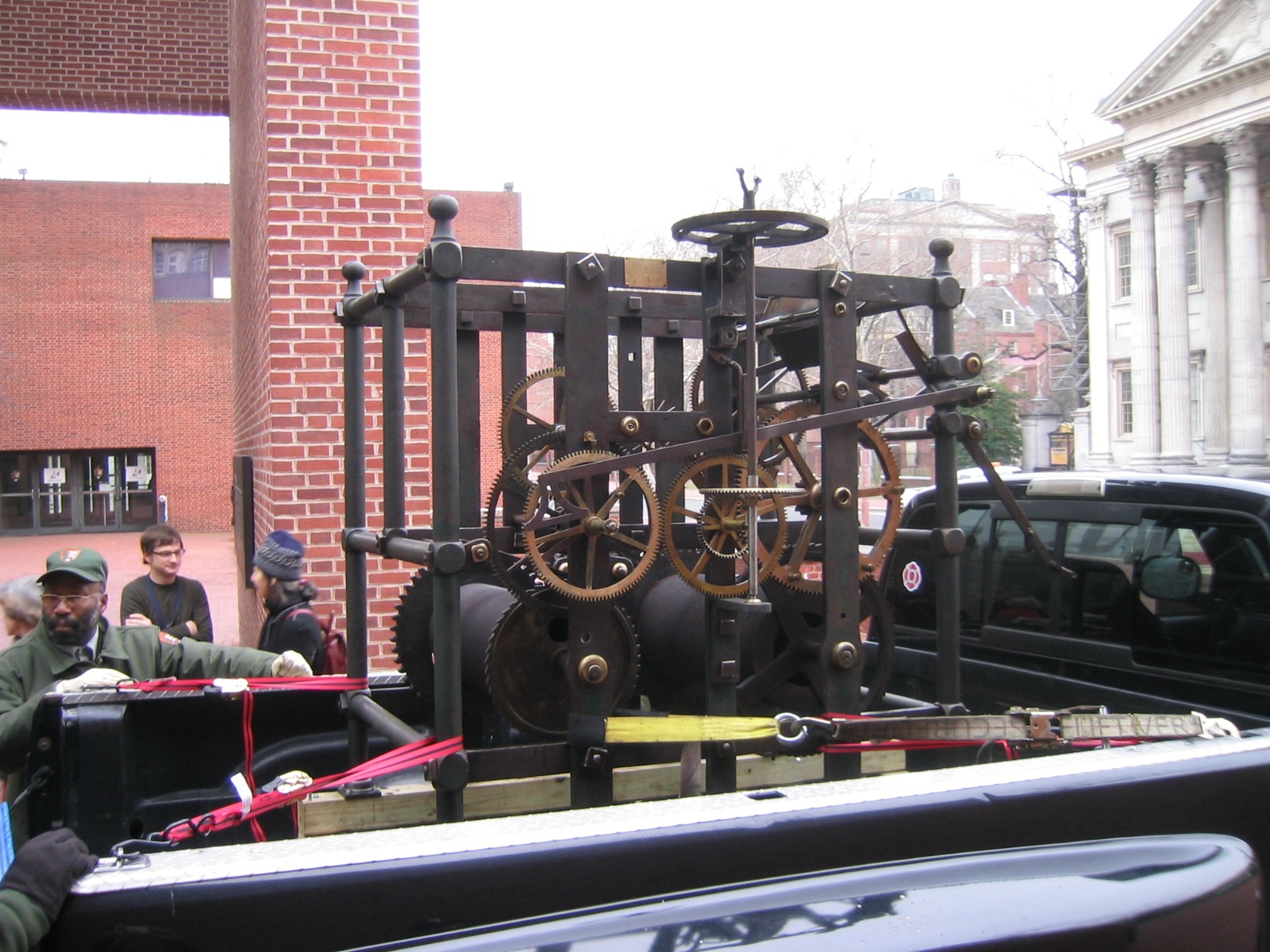 Delivery of restored Lukens tower clock movement .
Rittenhouse at Drexel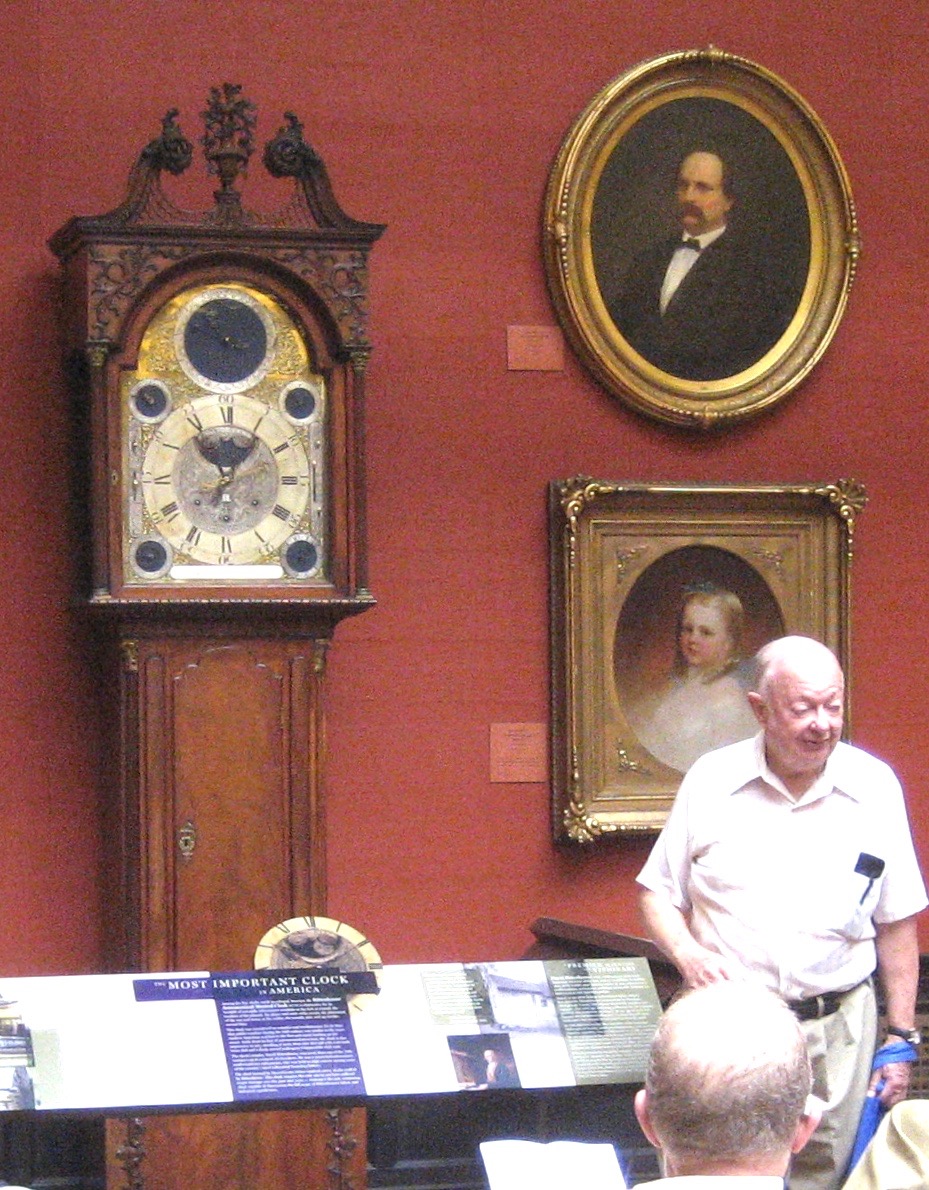 Rittenhouse Orrery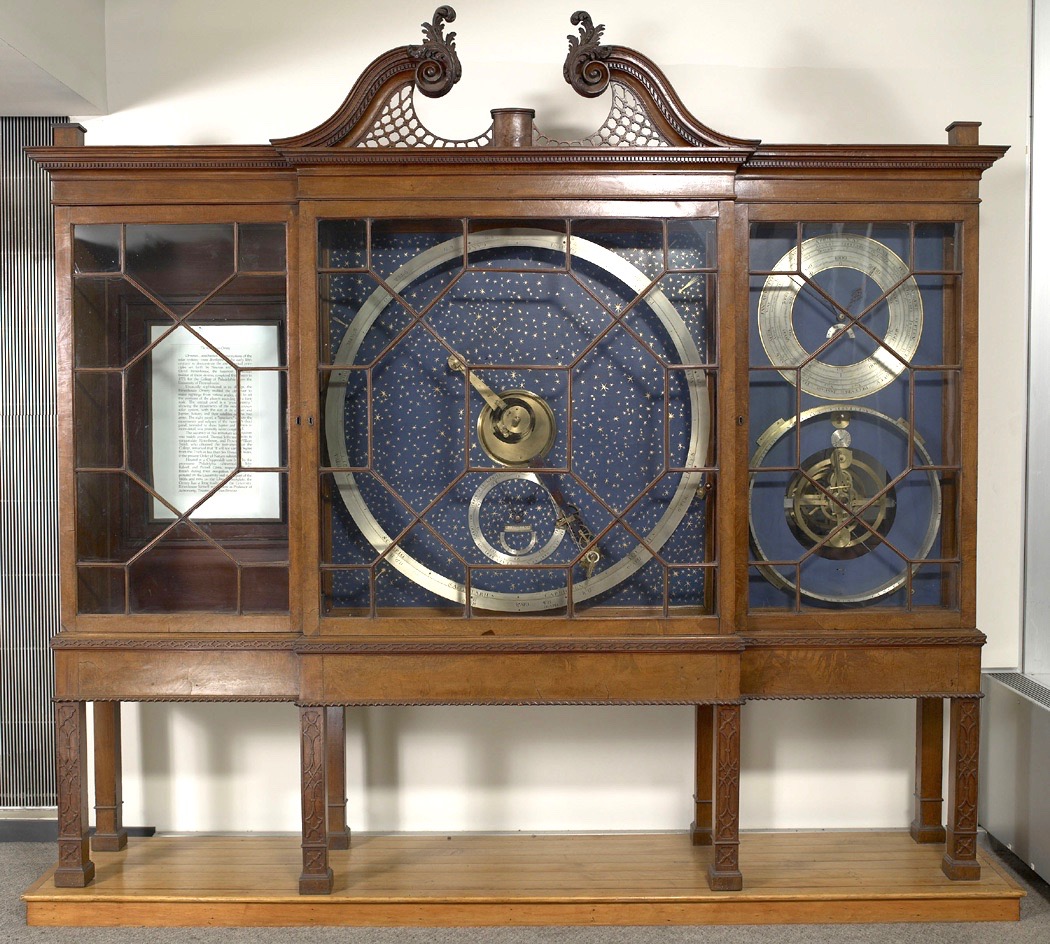 Independence Hall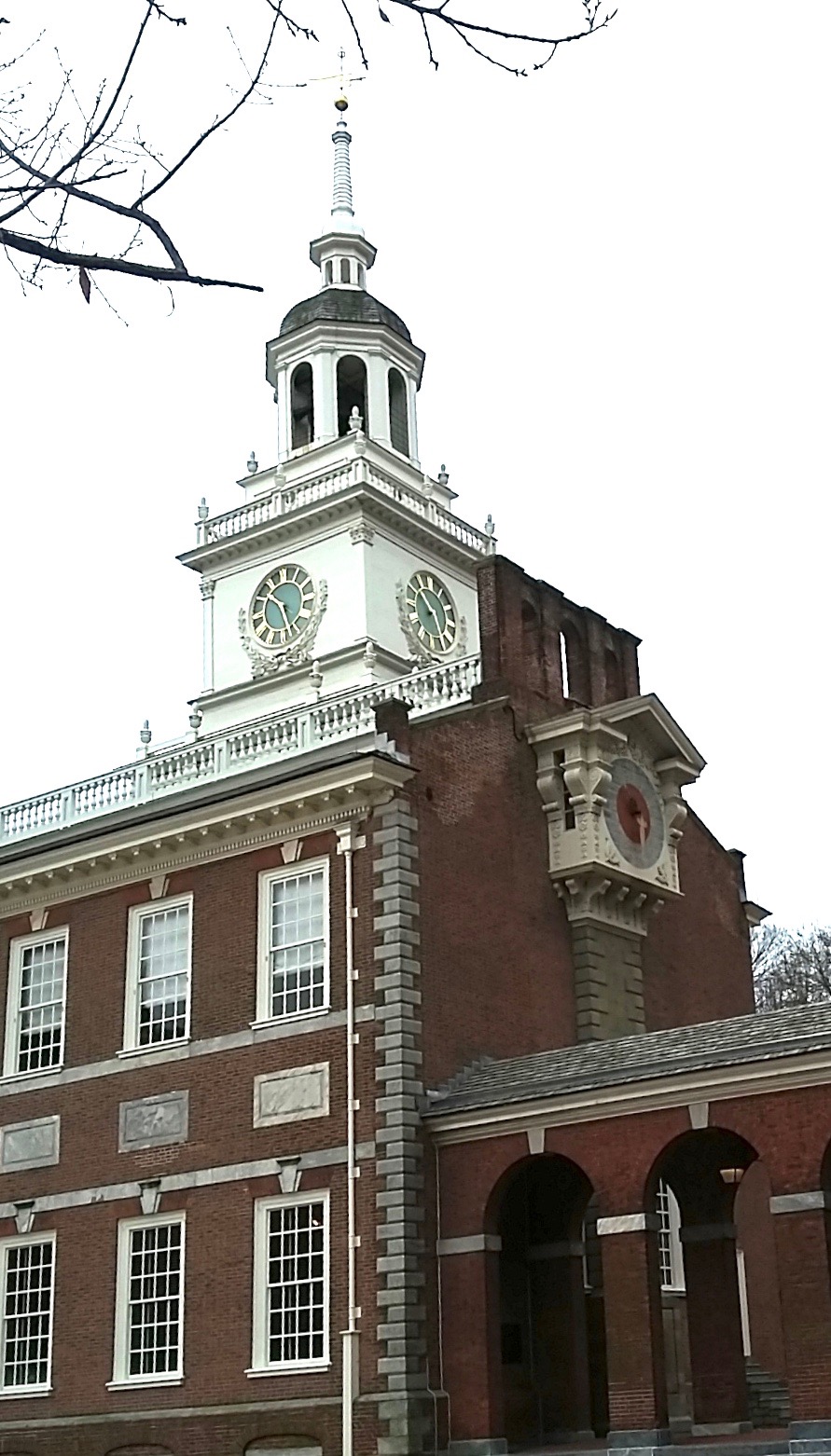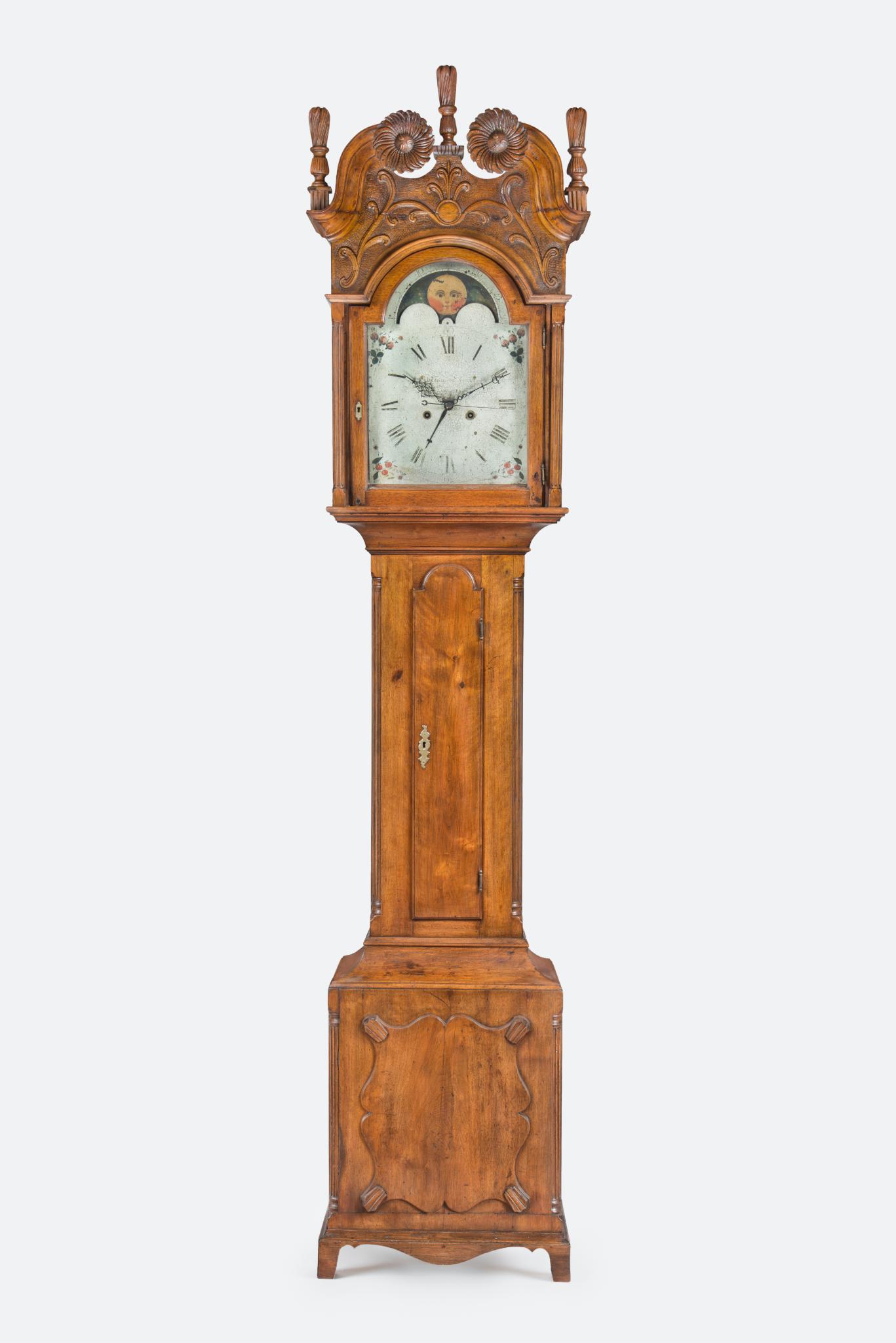 Rock Ford Plantation. Movement signed by Martin Shreiner, No.90.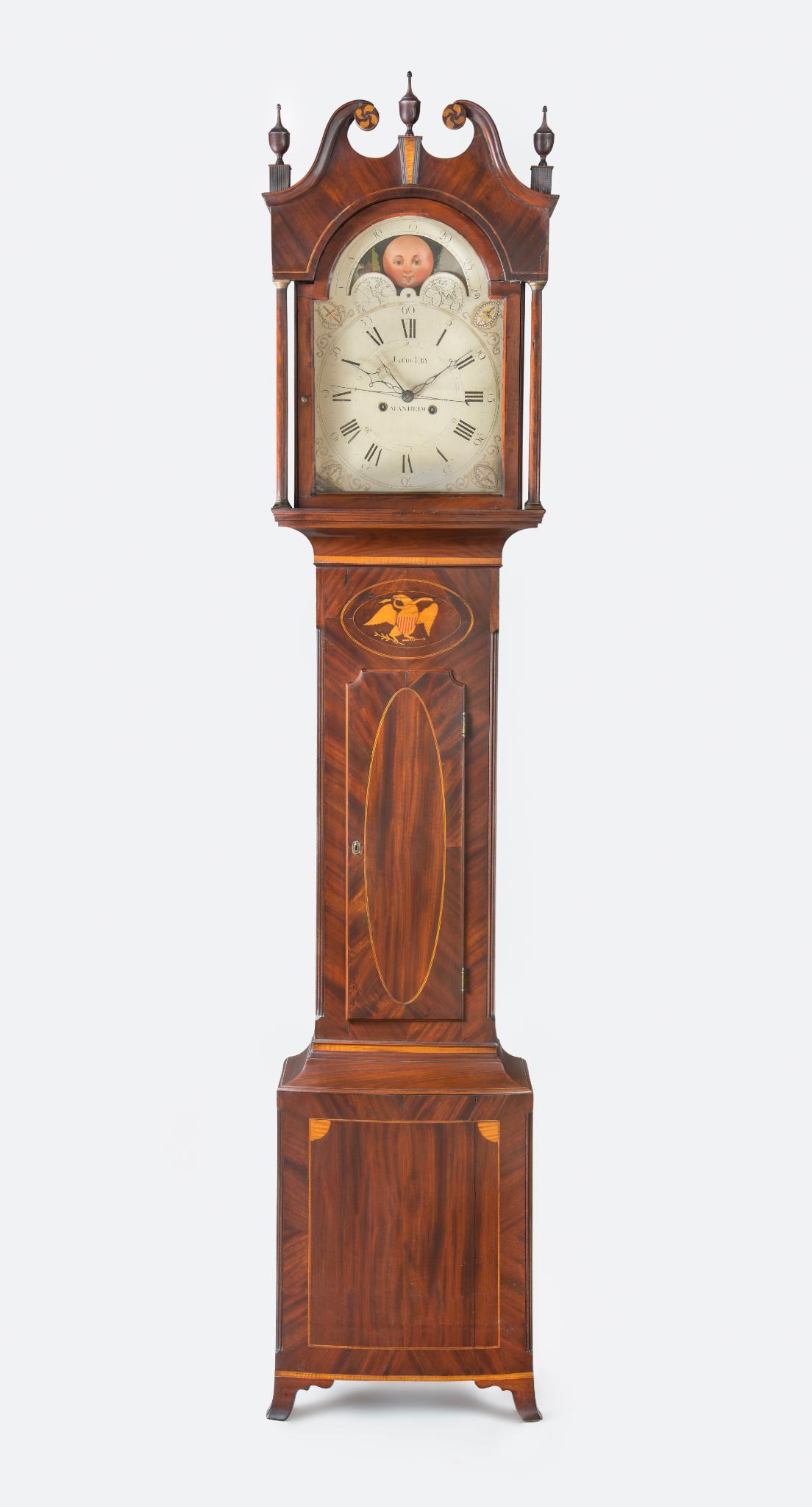 Rock Ford Plantation. Case attributed to workshop of Emmanuel Deyer, movement signed by Jacob Eby.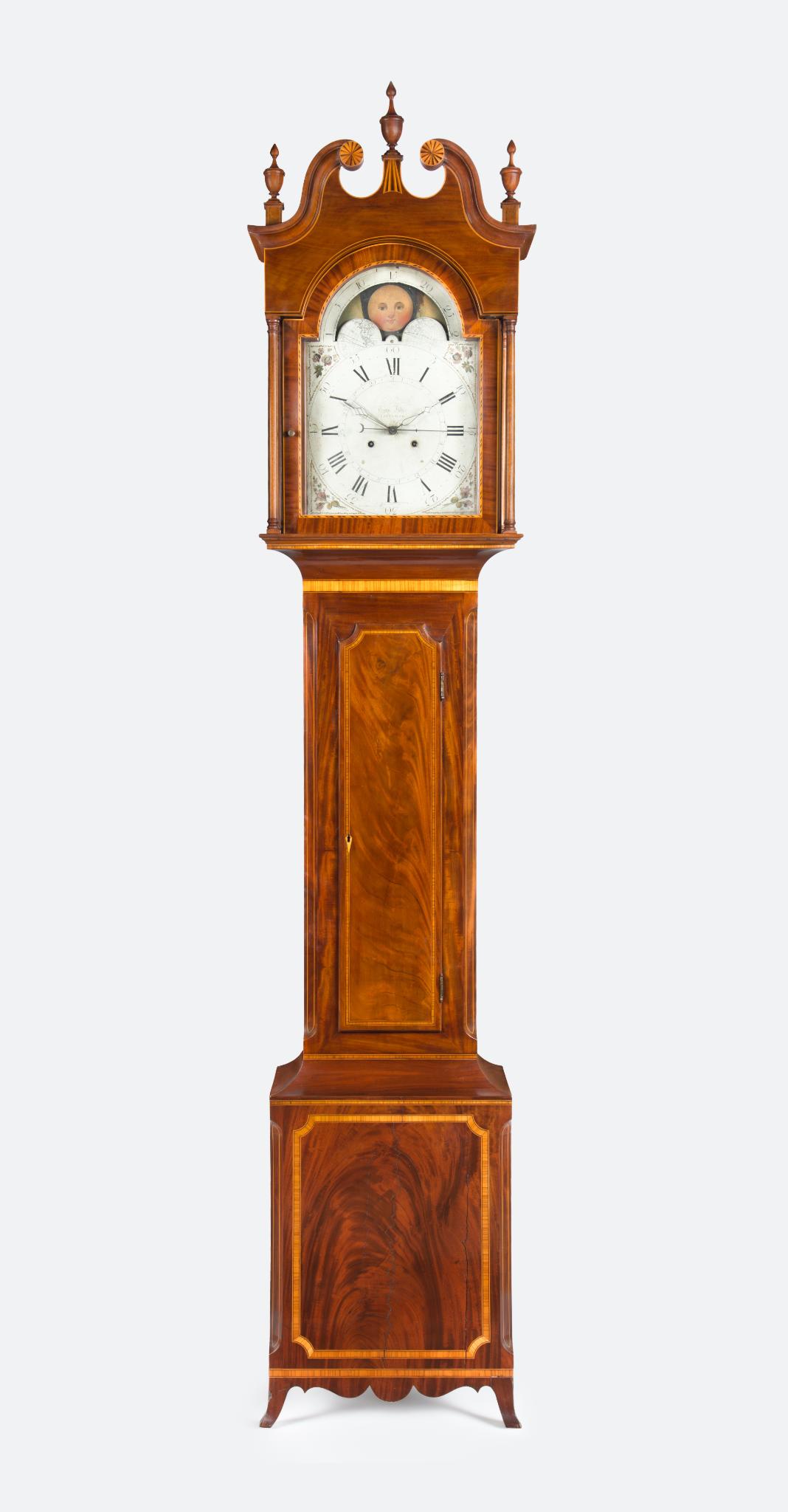 Rock Ford Plantation. Painted dial signed by George Fisher, case bears stamp of cabinetmaker Michael Stoner.